Are you ready to push your limits?

Exercising can be extremely boring sometimes. We all have those days when we just don't have the motivation to step outside our homes and hit the gym. So, to keep the motivation going, we have 3 work out challenges you need to take right away that will get you on your toes at once. These challenges will give you a nudge in the right direction and help you stay fit.
1. The Do-It-With-A-Friend Challenge
The best way to work out and have constant motivation is if you have a friend who is just as determined as you to stay fit. You both can challenge each other and keep the spirit going. Make it a competition and maybe even decide on a mutual prize for the person who wins. Whenever we compete, the motivation to reach our end goal becomes much more intense in comparison to when we try to achieve something on our own. You can make this challenge fun and exciting as per your own needs. It can be on a weekly or a monthly basis, and can even include different types of workouts. You don't necessarily have to hit the gym. You can go for a run and convert it into a race. You can play outdoor sports and keep scores. Though, make sure you are extremely careful during all the physical activities and avoid causing any injury.
2. The 30 Days 30 Minutes Challenge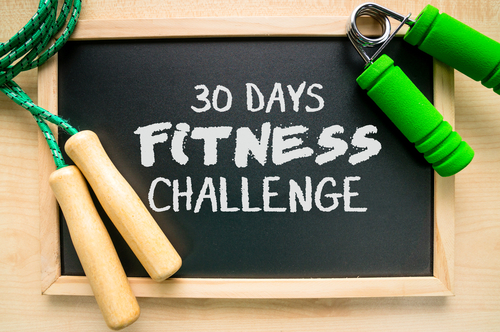 The 30 days 30 minutes challenge is exactly what it sounds like. All you need to do is workout for 30 days straight, though only for 30 minutes each day. Since it'll be a month-long challenge, you can make it more interesting by picking up different physical activities for different days. For example: Monday for cycling, Tuesday for CrossFit, Wednesday for running, Thursday for HIIT, Friday for playing a sport, Saturday for swimming and Sunday for brisk walking. As long as you keep going, you will eventually see how much you enjoy taking this challenge. It might sound tough, but believe us, everyone can take out 30 minutes from their day to work out. Include it in your morning routine so that your regular day doesn't get disturbed and once you are through with this challenge, you will see the difference yourself.  
3. The Social Media/Instagram Challenge
Often on social media, we present the the part of our life we want the world to see. But when you make your Instagram or YouTube fambam a part of your fitness challenge, the pressure might help you keep the motivation going. When you make a promise to yourself in other people's presence, the chances of you following up are more than if you would have done it otherwise. So all you need to do is post a video of you working out everyday on your social media and share your journey with the world. You can ask your followers to participate with you during this challenge. A lot of fitness bloggers do this too and so if you aren't comfortable posting your own videos, you can watch their videos and follow through. Though, make sure to workout according to your own body type and abilities.
So what are you waiting for? Get started, already.