When it comes to running and working out, the more the merrier (and healthier)!

Humans a very social breed and we've evolved to be people who excel in a community setting, so what could be a better way to boost our health and fitness levels? The Oxford English Dictionary defines community as "a group of people living in the same place or having a particular characteristic in common".
The following reasons will motivate you to embrace a running/fitness community group to maximise your health and fitness goals.
1. Boredom, Begone. Hello, Consistency!
There are some of us who find the idea of running alone absolutely boring! Some of us begin to go for that workout or that run alone but lose motivation to be consistent with our goals. Then, there are some of us who prefer to run alone as it may help us think and brainstorm about several things. So, here's a win on both accounts—running or training in a group with diverse people actually helps you ideate more, bounce off several ideas on numerous topics and thus get more creative!
Your runs or workouts will be more interesting on the motivation front as well. Most community running groups meet at least weekly, if not more, giving you enough reasons to remain consistent with your schedule.
2. Make Friends, Explore Places And Share A Lot of Crew Love
Joining your local group will help you develop new friendships, get a sense of belonging outside of family and work and better hone your passion and skills. You'll easily find like-minded individuals committed to improve as runners, as athletes and as human beings. You'll get to learn about new training, nutrition or recovery methods, routes, races, events, gear and more.
More importantly, you get to be part of a cheering squad that roots for each other. This will be immensely useful on those days that you are low on motivation or need to train through the heat/humidity/dark and cold grey days.
It's also very common for community members also travel to destination races or events together. If it's a global community, like the Adidas Runners, members from across 50 cities convene regularly at events, in different countries. This July, I got the opportunity to be part of the City Night Run event in Berlin. The entire experience of sharing struggles, triumphs and mindset with people from across the world provides a fantastic learning group and instils a sense of incredible pride.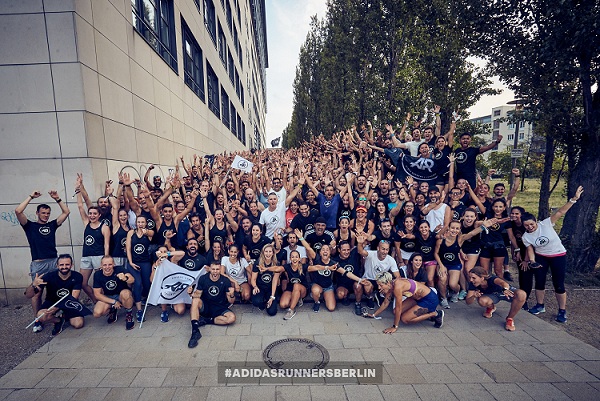 3. Challenge Yourself Further: Get Competitive, Gain Confidence
Becoming part of a community fitness group will help you discover your competitive side – you vs you and/or you vs others. Even the most shy person or the least competitive person will find the confidence to get outside their comfort zone and strive to improve their performance.
Also, given that leading community running groups switch up their training sessions—varying locations, intensities, times, it gives you enough reasons to stay challenged. For instance, a training week can see easy run + drills on Wednesdays, speed workouts (intervals/fartleks/tempo) on Thursdays, functional training or Yoga on Saturdays and long runs on Sundays. Regular members will enjoy the process of avoiding any training plateaus and always progressing to newer goals.
4. Join the Movement: Drive Change for Good
Running or working out as a group makes you very aware of your surroundings. As your sense of wellbeing develops, you will find it easy to contribute to key social causes. Whether it's fundraising, a cleanliness drive, or raising awareness about key issues such as safety/health/pollution etc, you'll find being part of something bigger than you, very rewarding.
Earlier this year, nearly one million Adidas Runners participated in the global #RunForTheOceans movement, running over 12 million kilometres using the @runtastic app, to generate awareness about marine plastic pollution. In Mumbai alone, 3000 runners from all walks of life, collected 126 tonnes of plastic waste in just a couple of hours, as part of a  clean-up activity at Versova Beach.
5. Be Safe In A Pack
There's strength in numbers, so being part of a community group helps you participate in your choice of fitness activity in a safe environment without any worries of getting run over by a car, mugged or fall prey to any form of violence. Moreover, if you suddenly twist an ankle or pull a muscle or get sick, you'll have someone to get you help. For new or women runners, it's hugely empowering. You'll feel brave to explore new trails, plan drives to the outskirts of the city and keep your community sessions super fun and engaging.
Sure, your running and fitness goals are very personal. However, considering the above reasons, I'm sure that you'll realise the immense benefits all aligned in your favour. Go find your nearest community group!
About The Author: Nivedita Samanta is a NAASFP Certified Running Coach, Brand Ambassador and athlete for Adidas Running and Unived Sports in India and founder of FitRabbits. All the information in this article is explained in great detail on the FITRABBITS YouTube channel and on her Instagram profile.